Outdoor Kitchen
WWOO is the multifunctional modular outdoor kitchen that fits into any garden. Thanks to its patented design, WWOO is the ultimate low-maintenance outdoor kitchen, which you find in gardens all over the world.
Design your WWOO as a freestanding outdoor kitchen, incorporate the WWOO in your boundary fence, add a kitchen island, bar, shower, or design the ultimate outdoor lounge. You name it! 
WWOO is available in concrete and steel and different colors. WWOO is the unique, stylish and low-maintenance outdoor kitchen specially designed for you to enjoy your garden 365 days a year.
Our elements and design are simply perfect. Choose the amount of elements you want, their height and color, and the configurator creates your dream kitchen for you. Our products and accessories are multifunctional, ease to use and low-maintenance. Do you want to experience WWOO in your garden? Design your WWOO, save your design, click the [AR] button and check out WWOO in your garden virtually. 
Need help? Contact us and we will help you and design your personal WWOO.
At WWOO you will not find a fixed kitchen cabinets or a refrigerator, etc. WWOO has no corners where leaves or mold can be. Of course, WWOO is equipped with all the luxury you need: it's outdoor cooking 'The Dutch way' thanks to the patented design. Start dreaming about those long summer nights with friends, preparing an autumn lunch with your kids, or relaxing with a book under your canopy. WWOO is not just an outdoor kitchen. It's a lifestyle, and all about enjoying the moment. Read more about it in our story. 
'Your garden as a holiday destination'
Enjoy the ultimate holiday feeling in your own garden. Together with the WWOO family, we produce in the Netherlands, Germany, UK, America and Israel. WWOO has retailers worldwide and cooperates with a select group of architects, gardeners, BBQ specialists and professionals. Find a retailer near you or send an email to contact@wwoo.nl, and we'll help you out.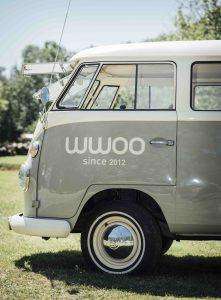 Our story
WWOO is a creation of Dutch designer Piet-Jan van den Kommer. During his career as an interior designer, there came a point where he wanted to design a low-maintenance, stylish outdoor kitchen that can stay outside all year round. The outdoor kitchen had to be more than just a place to cook, though. Because there was something else Piet-Jan wanted: to turn the standard boundary fence we see in gardens into a more multifunctional object. Combining the two ideas together, was how the invention of the WWOO came about. After that, it was just a matter of time before the WWOO was sold worldwide. 
The WWOO modular outdoor kitchen provides you with a collection of elements to create your own design; there is a WWOO for every lifestyle and location. Give your balcony a makeover with WWOO or create an outstanding outdoor cooking facility in your garden. Perhaps you live in a townhouse, and you want to restyle your boundary fence.
The possibilities of WWOO are endless. Do you already have a BBQ or Kamado BBQ? No problem! Various brands can be integrated into the WWOO. Contact us for a tailor-made offer.
To help you, we created a configurator to create your dream kitchen. Do you want help from our designer? We are more than happy to help you, just send an email to contact@wwoo.nl.