ENTRECOTE STEAK 
At this time of year, outdoor temperatures can often be capricious. But regardless of whether it's a pleasant or bleak cold day, we keep the fires burning.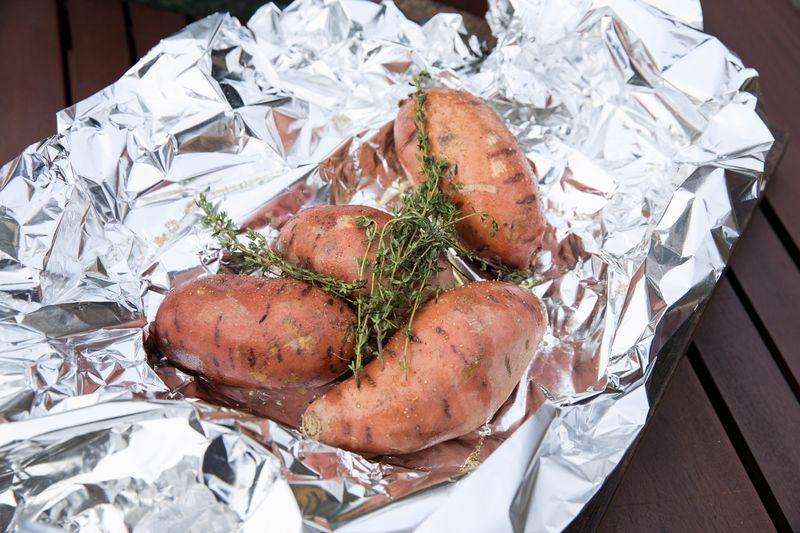 Ingredients
 How to?
1.Ignite the Big Green Egg and heat, with the Cast Iron Grid, to 180℃. Wash the sweet potatoes and wrap them in a large piece of aluminium foil along with the garlic and thyme. Place the package, along with the peppers, on the grid of the EGG and close the lid. Give the peppers a quarter turn every few minutes. Remove them from the EGG when the skin is blackened and starting to come loose. Allow to cool. Roast the sweet potatoes and garlic for approx. 1.5 hours until the potatoes are cooked.
2.Meanwhile, wash the chicory and bring a saucepan with plenty of water to the boil on the stove. Squeeze the juice from the lemon and add to taste with salt. Cook the chicory al dente for a few minutes and drain. Allow to steam dry on a clean dishcloth.
3. Carefully remove the skin, stalk, seeds and membrane from the peppers. Ensure the peppers remain whole so that they can easily be heated in the EGG later. Remove the aluminium foil package from the EGG and allow to cool. Extinguish the EGG by closing the flow draft door and the dual function metal top, or use the Cast Iron Grid Lifter to prepare the EGG as indicated for preparation of the scallops and heat to a temperature of 220℃. Peel the sweet potatoes and push the flesh through a sieve. Weigh 125 grams of puree and mix with the flour, baking powder and egg. Season with salt and pepper. Cut the chicory stalks in half lengthwise and wrap with a rasher of smoked bacon. Cover and refrigerate the ingredients until needed.
4. Cut the pork suet into cubes. Heat a pan on the stove and fry over low heat for about 20 minutes until crispy. Meanwhile, peel 4 cloves of the roasted garlic and chop finely. Finely chop half the parsley. Mix the garlic into the crisp fried crackling, season with salt and pepper and allow to cool. Cover and refrigerate the ingredients until needed.
Enjoy your meat!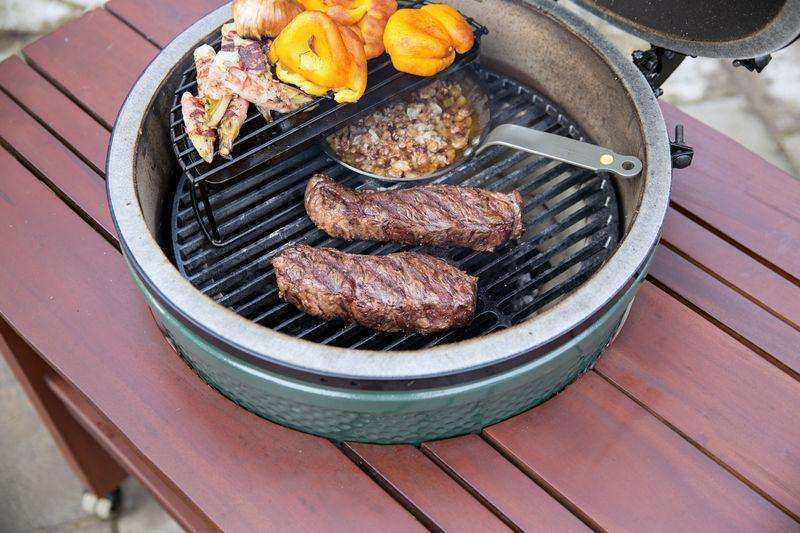 Source: Big Green Egg Europe