Did you know that it's also possible to integrate a professional pizza oven in to your WWOO outdoor kitchen?
Below you find a really nice autumn recipe with herb cream and wild mushrooms!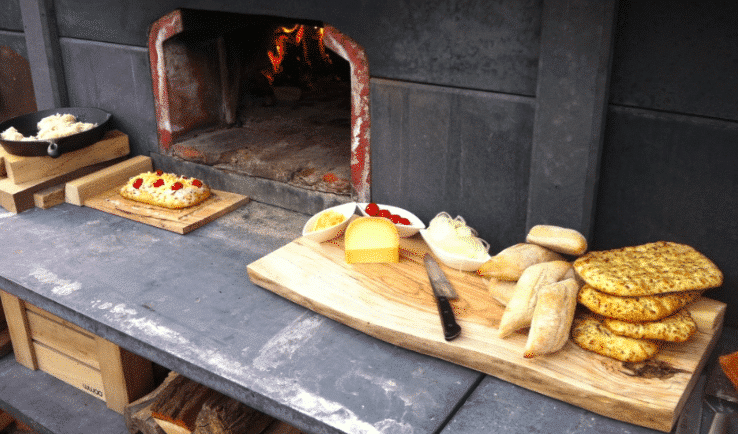 Pizza with herb cream and wild mushrooms
Two persons meal
Thirty minutes preparation time
Main course
Ingredients for the pizza itself:
-2 scallions
-1 pack of herb cream
-1 pack of mushrooms
-150 grams of mozzarella
-2 cloves of garlic
-600 grams of oyster mushrooms
-1 pinch of salt and pepper
Ingredients for the dough
-1.5 cups of lukewarm water (40 degrees Celsius)
-1/2 pouch of instant yeast granules
-1 teaspoon of sugar
-250 grams of flour
-1/2 teaspoon of salt
-2 or 3 tablespoons of olive oil
Ingredients for the sauce:
-1 can of tomatoes (400 grams)
-1/2 tablespoon of oregano (or Italian herbs)
-Pepper and salt
-2 tablespoons of olive oil
Preparation:
Cook the tomatoes and heat the olive oil in a pan, in the meantime, when your tomatoes are cooked, you make puree of the tomatoes with a blender. Do not puree the tomatoes till they're smooth, keep a few bits of tomato pieces.  Put the tomatoes in the pan and wait for 4-5 minutes. When the tomatoes are cooked well, add the salt and pepper. Simmer for 1-2 minutes. When the sauce is cooled you can use it as your topping.
Bake the pizza crust and put the tomato sauce on top of it. Cut the mushrooms into pieces or slices. Cut the mozzarella and the scallions in to pieces. Press the garlic and put it together with the olive. Preheat your pizza oven and lightly fry the mushrooms and scallions. Mix them with the herb cream, then put the mushroom blend on top of the crust and cover it with slices of mozzarella. Put a bit of pepper on top and drizzle the pizza with oil.
Now your pizza is ready to be baked, enjoy your autumn pizza!