BGE-BEER CAN CHICKEN
The twist in this recipe is that we use Radler (Shandy). The refreshing sweet citrus taste of the Radler is a real treat!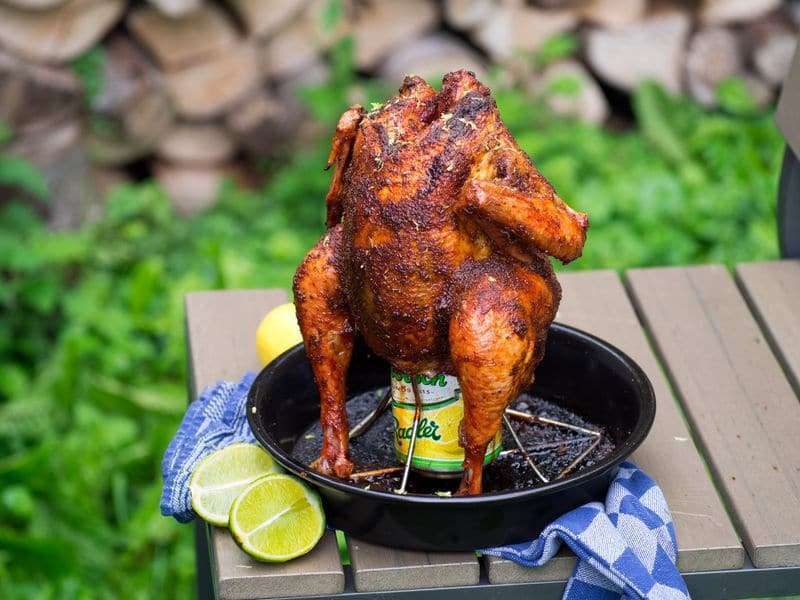 Ingredients
1 organic chicken
olive oil
1 can of Radler
1 lime
1 lemon
For the rub:
1 tbsp black pepper
1 tbsp salt
2 heaped tbsp paprika powder
3 full tbsp brown sugar
1 tsp ground cloves
1 heaped tsp onion powder
1 heaped tsp cumin powder
1 heaped tsp garlic powder
1 heaped tsp chilli powder
 How to?
1. Ignite the Big Green Egg. Put the convEGGtor into the EGG with its legs facing upw
ards, close the lid and heat it up to 180. Meanwhile mix together all the ingredients for the rub. Carefully lift the skin away from the chicken meat by sliding your fingers under the skin and moving them from left to right. Spread some of te rub between the skin and the meat and rub it in well. Also spread some rub into the cavity of the chicken. Thoroughly rub olive oil into the skin, then spread rub onto the skin until it is completely covered.
2. Fix the half-full can of Radler into the Folding Stainless Beer Can Chicken Roaster and put the chicken over it. Put in the Round Drip Pan and place in the middle of the convEGGtor. Clos the lid of the EGG and cook the beer can chicken for 60 to 70 minutes.
3. Remove the Drip Pan from the EGG using the Pit Mitt BBW Glove and grate some lime and lemon zest over the bird before serving.
Enjoy the recipe!