The fresh salmon is delicious at Organic Food For You and they give you a tasty recipe with it: a perfectly prepared salmon with light spicy and sweet glaze.
Soak the Cedar shelf at least 2 hours in salted water, but preferably longer. Heat the oil in a saucepan and lightly fry the fresh pepper. Add the garlic and just before the garlic turns brown, add the wine. Stir in the apricot jam, mustard, lime juice, soy sauce and thyme. Let this boil about 20 minutes until a thick glaze arises and then allow it to cool.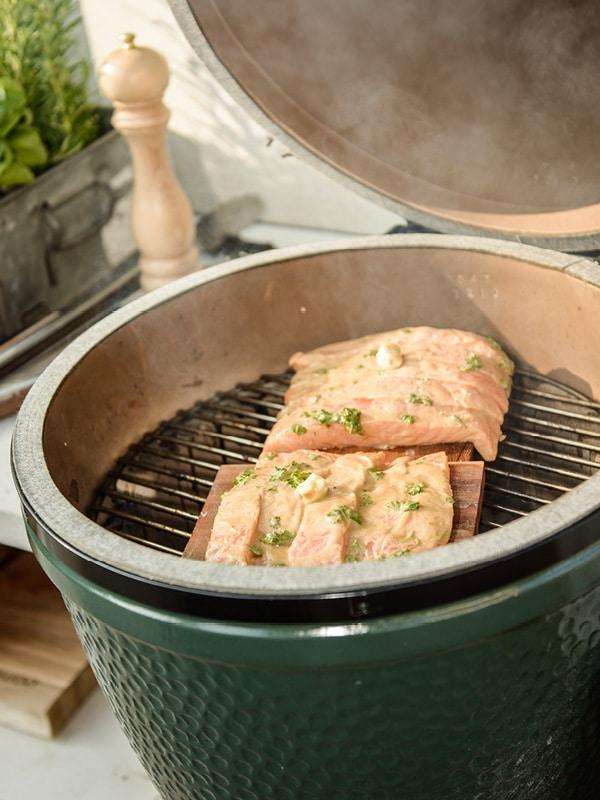 Pat the Cedar plank dry and rub it lightly with oil. Place the fish on top, skin side down, and sprinkle the fish with salt and pepper. Brush it now with a generous layer of the glaze. Put it on your Big Green Egg or other BBQ which is lockable and regulate the temperature, stable at 190 ° and roast the salmon in about 10 to 15 minutes. Until the middle is light pink and the sides are golden brown. Would you rather be safe than sorry? Measure the core temperature (core temperature of 57 °)
Very important:
Let the salmon rest for 3 to 5 minutes before cutting and serving him!
Wine Tip:
Drink a nice chardonnay with it, form Ycaro.